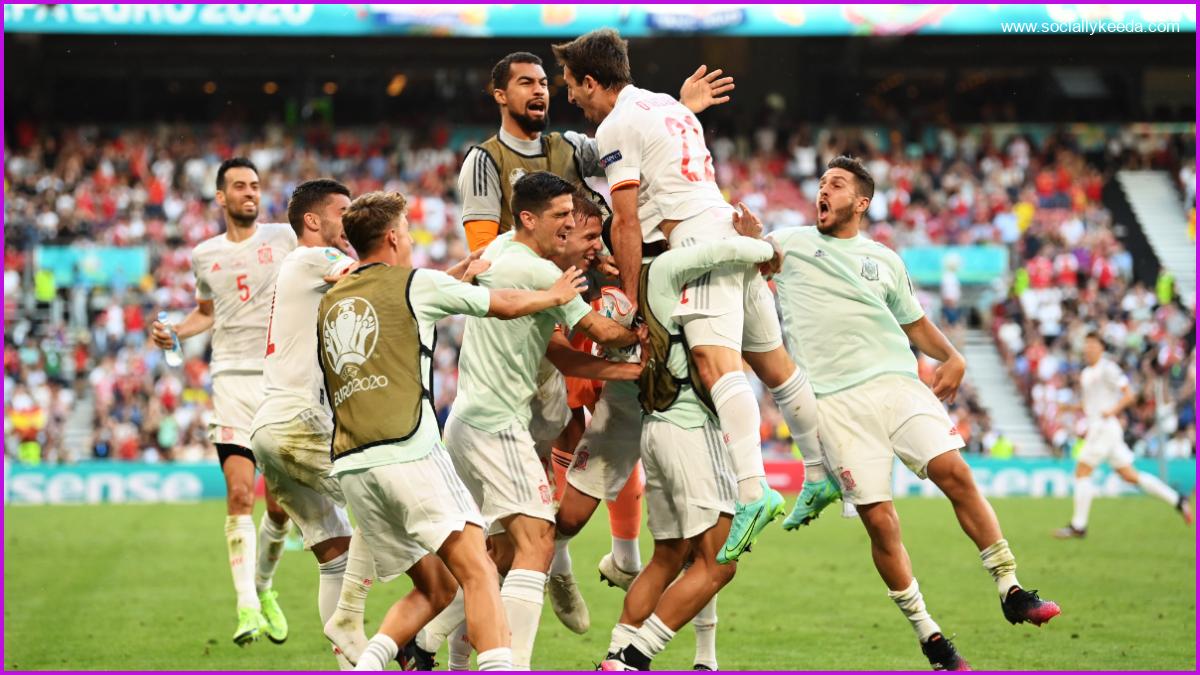 Spain defeated Croatia 5-3 to make it to the quarterfinals of UEFA Euro 2020. Despite, Pedri's own goal, Spain managed to gain the lead in the extra time.
WHAT. A. GAME.

🇪🇸 Spain win EIGHT-GOAL extra time thriller in Copenhagen and progress to quarter-finals!

😮 THAT match = ________#EURO2020

— UEFA EURO 2020 (@EURO2020) June 28, 2021
Heroes!
WHAT DRAMA!

🇪🇸 Morata + Oyarzabal = Spain heroes! 👏#EURO2020 pic.twitter.com/VUrZyzghbE

— UEFA EURO 2020 (@EURO2020) June 28, 2021
(SocialLY brings you all the latest breaking news, viral trends and information from social media world, including Twitter, Instagram and Youtube. The above post is embeded directly from the user's social media account and SociallyKeeda Staff may not have modified or edited the content body. The views and facts appearing in the social media post do not reflect the opinions of SociallyKeeda, also SociallyKeeda does not assume any responsibility or liability for the same.)
articleid = $(this).attr('data-articleid'); articleupdate = $(this).attr('data-articleupdate'); socially_title = $(this).attr('data-articletitle'); socially_url = $(this).attr('data-newurl'); emoji = $(this).attr('data-emoji');
emoji1 = $(this).prevAll(".socially_article_widget2").attr('data-emoji'); socially_url2 = $(this).prevAll(".socially_article_widget2").attr('data-newurl');
var top = window.pageYOffset; var distance = top - $(this).offset().top; var newhref = socially_url;
var scrollTop = $(window).scrollTop(); var top_of_element1 = jQuery(".socially_article").last().offset().top; //console.log("count: "+scrollTop+" "+top_of_element1); if((scrollTop 3000) && !working && currenthref != socially_url1){ working = true; currenthref = socially_url1; var emoji2 = "Spain Win Eight-Goal Extra Time Thriller Against Croatia Despite Own Goal, Advance to Euro 2020 Quarterfinals | ⚽ SociallyKeeda"; console.log("count1"); var newhref1 = "https://www.latestly.com/socially/sports/football/spain-win-eight-goal-extra-time-thriller-against-croatia-despite-own-goal-advance-to-euro-2020-quarterfinals-watch-video-2592542.html"; $('h1:first').text("Spain Win Eight-Goal Extra Time Thriller Against Croatia Despite Own Goal, Advance to Euro 2020 Quarterfinals"); $(document).find("title").text(emoji2) window.history.pushState("","","https://www.latestly.com/socially/sports/football/spain-win-eight-goal-extra-time-thriller-against-croatia-despite-own-goal-advance-to-euro-2020-quarterfinals-watch-video-2592542.html"); gtag('config', 'UA-111635423-1', { 'page_path': newhref1.replace("https://"+window.location.hostname+"/", "")}); setTimeout(function(){ working=false; }, 400); return false; }
//console.log("distance "+distance+" && working"+working+" &&currenthref:"+currenthref+" && newhref"+newhref+" && socially_url2"+socially_url2+" "+k); if(distance -900 && !working && newhref != socially_url2 && currenthref == newhref && typeof socially_url2 != 'undefined'){ newhref = socially_url2; currenthref = newhref; console.log("change url2"+newhref); working = true;
$('h1:first').text($(this).prevAll(".socially_article_widget2").attr('data-articletitle')); $('meta[property=og\:title]').attr('content', $(this).prevAll(".socially_article_widget2").attr('data-articletitle')); $('meta[property=og\:url]').attr('content', newhref); $(document).find("title").text($(this).prevAll(".socially_article_widget2").attr('data-articletitle')+' | '+emoji1+' SociallyKeeda') window.history.pushState("","",newhref); gtag('config', 'UA-111635423-1', { 'page_path': newhref.replace("https://"+window.location.hostname+"/", "")}); self.COMSCORE && COMSCORE.beacon({ c1: "2", c2: "27040963" });
setTimeout(function(){ working=false; }, 500); return false; }else if (distance -450 && !working && currenthref != newhref) { working = true;
currenthref = newhref; console.log("change url1"+newhref); $('h1:first').text($(this).attr('data-title')); $('meta[property=og\:title]').attr('content', socially_title); $('meta[property=og\:url]').attr('content', newhref); $(document).find("title").text(socially_title +' | '+emoji+' SociallyKeeda') window.history.pushState("","",newhref); //var res = newhref.replace("https://www.latestly.com/", ""); gtag('config', 'UA-111635423-1', { 'page_path': newhref.replace("https://"+window.location.hostname+"/", "")}); self.COMSCORE && COMSCORE.beacon({ c1: "2", c2: "27040963" }); setTimeout(function(){ working=false; }, 400); return false; } }); var bottom_of_screen = jQuery(window).scrollTop() + window.innerHeight; var top_of_element = jQuery(".container .article-footer").last().offset().top; if(bottom_of_screen > top_of_element && !visible){ visible = true; k=k+1; if(k==2 && false){ var dm_js = document.createElement('script'); dm_js.src="https://stfe.latestly.com/js/dm-ce.min.js?v=1.1"; dm_js.async="async"; document.body.appendChild(dm_js); } $.ajax({ method: "GET", url: "/larajax/live-socially-ajax/", data:{ curr_socially:articleid,curr_date:articleupdate,index:k }, dataType: 'json' }).done(function( data ) { $(".socially_article").append(data.html); $("img.lazyload").lazyload(); window.instgrm.Embeds.process(); var slotName = "div-gpt-ad-1560419575255-"+k; googletag.cmd.push(function() { var slot = googletag.defineSlot('/21682383758/latestly_728x90_btf1', [728, 90], slotName). addService(googletag.pubads()); googletag.display(slotName); googletag.pubads().refresh([slot]); }); googletag.cmd.push(function() { googletag.display('div-gpt-ad-1560419575255-'+k); }); var slotName = "div-gpt-ad-1568807958472-"+k; googletag.cmd.push(function() { var slot = googletag.defineSlot('/21682383758/728x90_Top', [728, 90], slotName). addService(googletag.pubads()); googletag.display(slotName); googletag.pubads().refresh([slot]); }); googletag.cmd.push(function() { googletag.display('div-gpt-ad-1568807958472-'+k); });
loadAPI_Social_js()
var js_fb = document.createElement('script'); js_fb.src="https://connect.facebook.net/en_US/sdk.js#xfbml=1&version=v3.3&appId=224265671451116&autoLogAppEvents=1"; document.body.appendChild(js_fb);
//colombai try{ (function() { var cads = document.createElement("script"); cads.async = true; cads.type = "text/javascript"; cads.src = "https://static.clmbtech.com/ase/80185/3040/c1.js"; var node = document.getElementsByTagName("script")[0]; node.parentNode.insertBefore(cads, node); })(); }catch(e){} }); }else if(bottom_of_screen
//vdo (function(v,d,o,ai){ai=d.createElement('script');ai.defer=true;ai.async=true;ai.src=v.location.protocol+o;d.head.appendChild(ai);})(window, document, '//a.vdo.ai/core/latestly/vdo.ai.js');
//colombai try{ (function() { var cads = document.createElement("script"); cads.async = true; cads.type = "text/javascript"; cads.src = "https://static.clmbtech.com/ase/80185/3040/c1.js"; var node = document.getElementsByTagName("script")[0]; node.parentNode.insertBefore(cads, node); })(); }catch(e){}
} });